They call him "Babu", Georgian for grandfather, but Enver Giglemiani is anything but a statesman – like when he throws his body around the court in sitting volleyball.
At 53, the former member of the Georgian Infantry is the oldest member of his national team that defeated the UK in the final at Invictus Games Sydney 2018, presented by Jaguar Land Rover, defending the title they won in Toronto in 2017. Earlier, Estonia took out the bronze medal with a two-set victory over Poland.
Giglemiani, who lost his leg serving in the Georgian civil war in 1993, was cheered on by his 21-year-old daughter Ana and a vocal crowd of flag-waving Georgians.
So contagious was the spirit of the Georgian family and friends contingent, sports fans attending the event also joined the chanting.
"No one can tell; he's always so active and because of his prosthetic, it looks like he has two legs. He is a very kind man who loves his country so much. He even fought for Georgia against Russia in 2008 with just one leg and his prosthetic.
"My father trains every day, not just to win medals, but so that people will know the name of our country."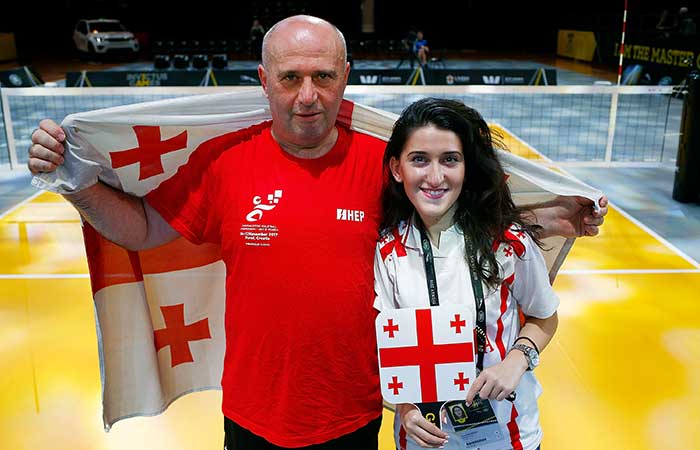 Giglemiani, a father of four and grandfather of two, dedicated the win to his countrymen.
"This is for the men who died fighting for Georgia," said Enver, who was a member of the team which won in 2017.
"I'm so proud of my father. I wasn't born when he lost his leg, so I never knew the pain he went through," Ana said.
Georgian team captain Besarion Gudushauri, a Lieutenant Colonel in the army, credits the Invictus Games spirit as integral to the recovery of injured service personnel.
While he experienced many dark days after losing his leg in the 2008 conflict with Russia, he said the camaraderie and success of his team, has provided great hope for himself and many service personnel.
"When we started in London we had only six in the Georgia team but our example encouraged other wounded warriors in Georgia to start joining us," he said.
"Now we have more people who want to participate in Invictus Games. We have 15 people here this time but I think next time we will have more.
"I had some hard period, maybe for five or six months, because I was always an active member of the military and special forces. It was a hard period, but my family and my government helped me.
"My first Invictus Games we got the bronze medal, which encouraged us. So I continued training and in Toronto we got the gold and tonight gold again. We are the champions!"
Gudushauri's message to all those service men and women impacted either physically or mentally: "It's a really important – do not stay at home, go and do something. Don't stop!"
Catriona Dixon and David Sygall
Invictus Games 2018