William Reynolds was one of the four competitors to carry the Invictus Flag at the Opening Ceremony of the Invictus Games Sydney 2018 presented by Jaguar Land Rover.
Reynolds whose left leg was amputated through the knee following a road side bomb blast in Baghdad in 2004 and enduring 26 surgeries, said his recovery would not have been possible without the support of his mother Evelyne, his wife Cassandra and their children Malachi, Gabrielle, Genevieve and Evangeline
"We are so honoured to be here in Sydney and to be a part of the Games spirit," Cassandra said.
"We are fans of everything the spirit of the Games stands for, and we are beyond proud that this year William has been given this amazing honour of carrying the flag."
Their nine-year-old son, Malachi added: "I am really proud of Dad and love watching him compete. What I like best is seeing all the different teams in their wheelchairs fighting it out with each other, and then seeing them be friends straight after."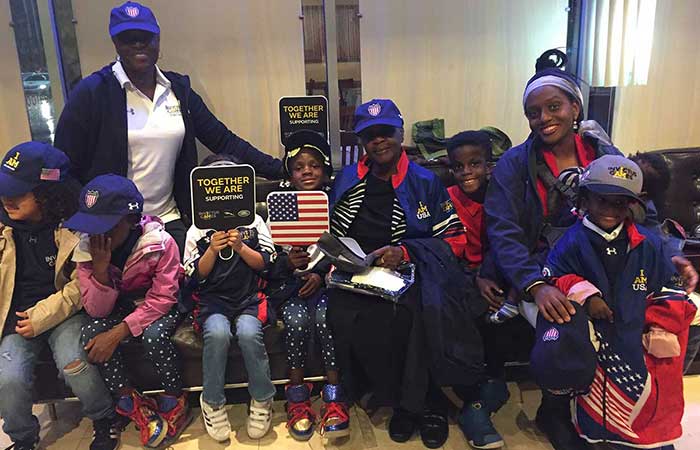 Supporting her husband in the past three Invictus Games Cassandra says,"I was there for William's first Games in England in 2014. His Mum and his sister Evelyne and the children all went to Orlando and Toronto as his cheer squad and the extended family of 10 are excitedly gathered together again here in Sydney.
Reynolds competed at the first three Invictus Games since 2014. He captained Team USA at the Invictus Games Orlando 2016.
Now with William's official role complete, he is continuing as a team ambassador supporting the competitors in this year's Team USA.
Meanwhile, while the family is taking in as many events as they can, Casandra says "the kids are really enjoying the atmosphere and engaging in all the fun kids activities that are around the event."
AnneMarie White
Invictus Games Sydney 2018