Crews aboard the Invictus Games Sydney 2018 yachts GAME ON and DOWN UNDER are now making their way to Hobart, having successfully navigated the start of the 2017 Rolex Sydney Hobart Yacht Race.
The crews were among the second wave of yachts to start the race, making their way through Sydney Heads shortly after 2pm AEDST.
The 73rd instalment of the iconic bluewater classic has attracted 102 entries and the UK crew GAME ON and Australian Crew DOWN UNDER is each carrying eight wounded, injured and ill defence personnel and veterans.
Crew members were both nervous and excited ahead of race start.
"I have no idea what to expect," said GAME ON Crew Member Gareth Davies.
"I've seen the race on tv, but I've never done it before so I'm focusing on my jobs and that's it really.
"There's a real buzz around the place, there's no joking and laughing anymore, everyone's just focused on what they have to do. Everyone has their game face on," he said.
With the arrival of race day, the rivalry between the Aussie and UK crews has subsided, giving way to support, to ensure both boats make it to Hobart.
"Everyone wants to be in the lead but it's really about these two Invictus Games boats getting there together," said GAME ON Crew Member Dan Fielding.
"Whatever happens, we're gonna be the guys who have done a Sydney Hobart," he said.
Fielding said Christmas night was a hive of activity at the Cruising Yacht Club of Australia, as crews made their final preparations ahead of race day.
"Everyone is absolutely pumped and everything is buzzing around here," he said. "Last night was like Christmas Eve all over again. Everyone was excited and couldn't quite sleep" he said.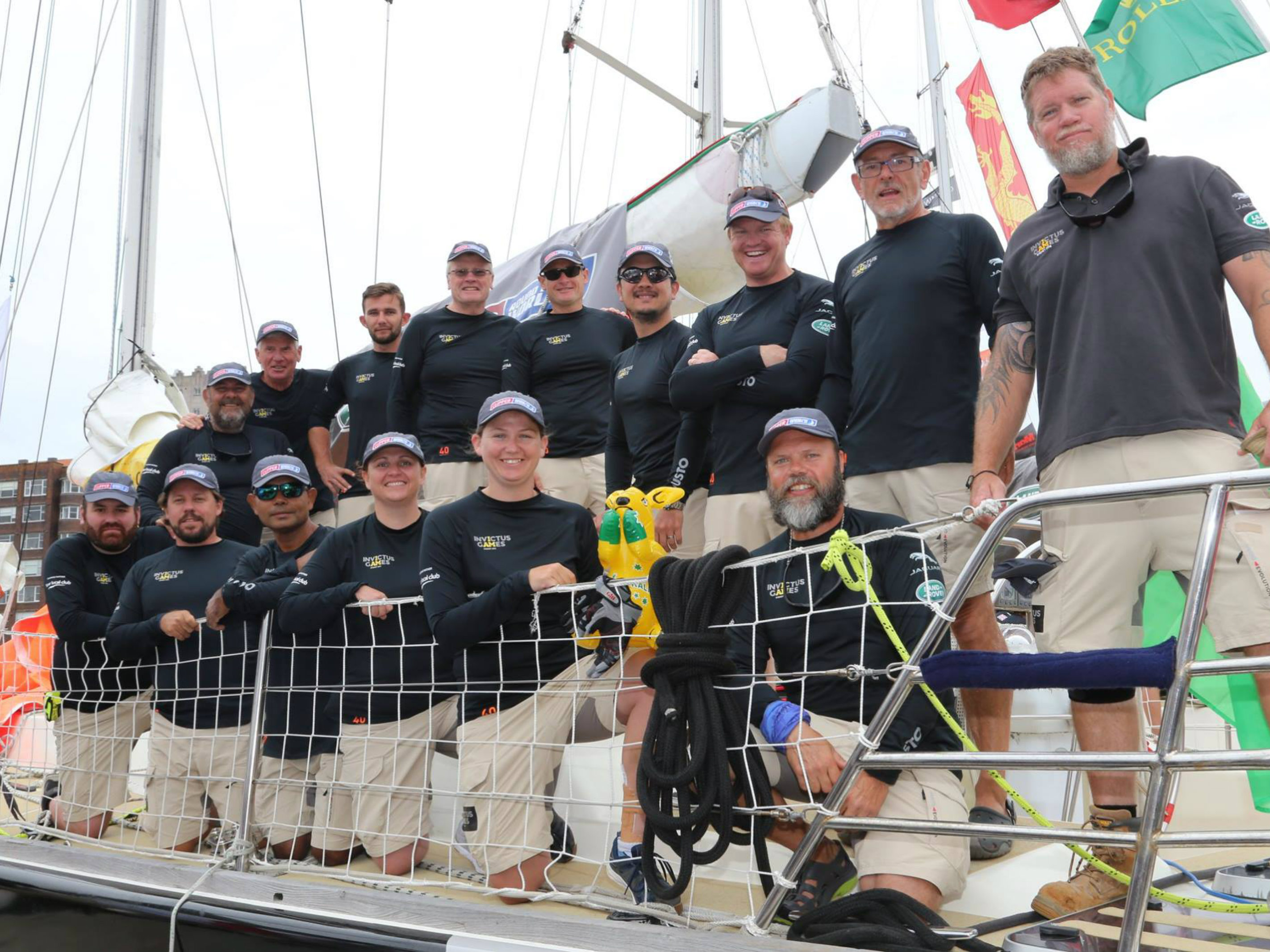 DOWN UNDER crew member Jason Woodsell (above, right) said the Aussie team was raring to go.
"Feels like it's been a long time coming so there's a lot of genuine excitement," said Woodsell.
"A lot of people have never done this kind of thing before. There's a bit of trepidation but we're looking forward to finding open space and making the most of the experience."
Woodsell's family was there for the send-off and their advice was simple…'immerse yourself in the experience.'
"They dropped down this morning and got to see the boat and what this is all about, was great for them to get amongst it," he said.
Follow the progress of the #IG2018 boats as they make their way down the east coast of Australia and towards Hobart.
Invictus Games Sydney 2018 race participation is being led by Invictus Games Sydney 2018 with support from; Jaguar Land Rover, the presenting Partner of Invictus Games Sydney 2018, UK not-for-profit Help for Heroes, the ADF Adaptive Sports Program, ClubsNSW, Returned and Services League, Clipper Ventures and Cruising Yacht Club of Australia.