Road Cycling
Speed and skill will come to the fore on the picturesque Royal Botanic Garden course when our cyclists test themselves against the clock and each other.
Sport Format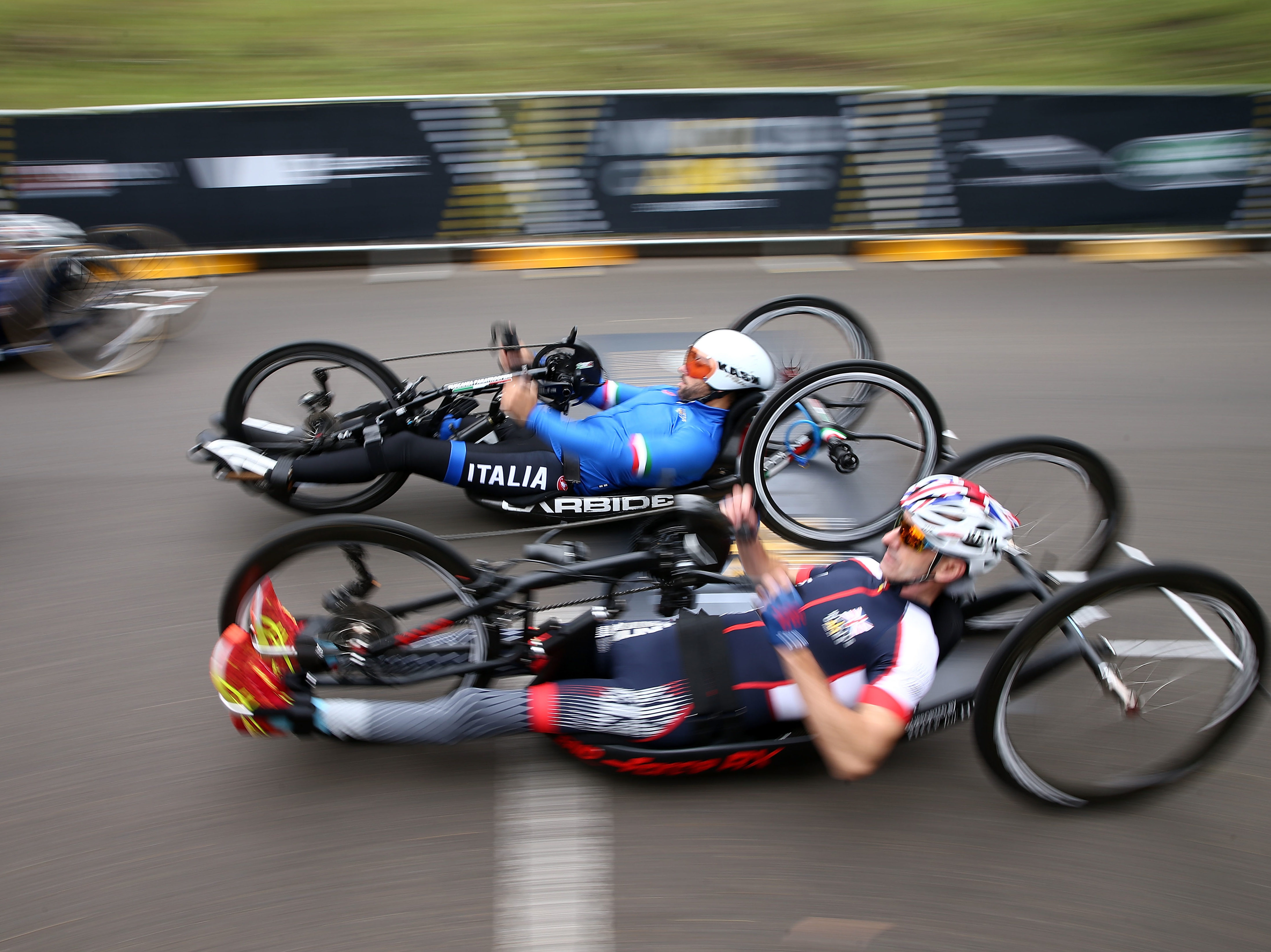 Time trial and the criterium events will be contested at Invictus Games Sydney 2018 by competitors on bicycles, tandems, recumbents and hand cycles.
Time trial – competitors race individually against the clock over a single lap of the 2.4km loop. The winning cyclist is the one with the fastest time in their category.
Criterium – competitors will race within their category and complete several laps of the 2.4km course over a 30-minute duration. The next lap after 30 minutes has expired is the final lap. The first cyclist to cross the finish line is the winner. All other cyclists will be awarded a place as they cross the line on that lap.
Medals will be awarded for road, hand and recumbent bikes classifications across a maximum of 14 categories (seven for men and seven for women).
THE EQUIPMENT
Four different kinds of bikes are used in competition with each bike designated for use in different categories:
Hand Bicycles
IHB1 is for cyclists with limited handgrip and limited trunk and leg function, who are unable to ride a standard bike.
IHB2 is for cyclists with limited leg function, with normal or almost normal trunk function.
Recumbent Bicycles
IReB1 competitors have impairments that prevent them from riding either a standard upright bike or a hand bike.
Road Bicycles
Standard upright bicycles are used by cyclists in three categories:
IRB1 cyclists generally have limited physical function in at least two limbs.
IRB2 cyclists have less severe impairments than those in IRB1.
IRB3 is the Open category and is for those competitors with mental health conditions, minor or non-permanent physical injuries, chronic health conditions, hearing impairments and other mild impairments.
Tandem Bicycles
Tandems are for cyclists who are blind or have low vision and require a pilot. The pilot rides at the front of the tandem and steers the front wheel, while both cyclists drive the rear wheel through a pedal and chain system.