Camaraderie replaced competitiveness, time and time again as swimmers from 13 nations took to the Sydney Olympic Park Aquatic Centre Olympic pool at the Invictus Games Sydney 2018 presented by Jaguar Land Rover.
"All our injuries are different but in the pool it's like a level playing field, " said UK competitor Mark Ormrod.
He decided at the last minute to enter the 50m backstroke after hearing that the race might be cancelled because there was only one registered entrant, Australia's Garry Robinson.
Ormrod's training consisted of about three laps of the practice pool about two hours before the race which he won by a finger tip and 0.29 of a second amid a wall of sound from onlookers.
"I wish we could both have got a medal. It was so close. Garry's a lovely guy," he said after returning with a gold medal which he collected with his seven-year-old son Mason by his side.
Ormond was deployed in Iraq in 2003 and to Afghanistan in 2007. He was returning from a foot patrol when he stood on a landmine on Christmas Eve.
"These Games mean more than he (Prince Harry) will ever know.
"Everyone needs goals and directions. The first time I went into a pool post injuries I nearly drowned."
His wife Becky, their children Mason, seven, and Evie, five, and Mark's daughter Kezia, 13, were in the roaring crowd.
"I don't usually get emotional but that made me cry, " said Becky. "He gave it his absolute all."
US competitors became sisters in arms as Hannah Stolgerb and Raina Marie Hockenberry were the sole competitors in the women's 50m and the 100m breaststroke ISB.
While Stolgerb won both races to take the only medal on offer, she said she couldn't have got there without her teammate, who she first met at the US Warrior Games in 2017.
Stolberg handed over her second gold of the night to highlight their solidarity.
"It's a mixed bag and on the one hand, you're sitting there and you want your team mate to win, you want them to do the best that they can," Stolberg said.
"Raina, I have the most respect for her than I do for almost anybody on the team. She encompasses what I always dreamed I could have as a career as a senior NCO and to be able to watch her during this week, has been inspiring and to be able to compete with her has been incredible. The way she pushes me is like nobody else I've been able to compete with so far, so for that I'm extremely grateful."
Showing some sisterly love back, Hockenberry said: "Hannah makes me better. Too often people look at us and think we need pity, or they think we are made of glass. Here, you forget all about your PTs, your injuries and you just compete and it's awesome."
"To be able to do it against one of my own, she makes me better. We make each other better."
Italian competitor Armando Iannuzzi came out victorious winning multiple medals but stressed that the victory really belonged to the Invictus Games and what it had done for both the Italian and international veteran communities.
"It's amazing, it's so important for us, for our family, and for all Italian defence. We have the Invictus Games, because you can understand what it means to put on a fight and represent you country and to have another point of view of life compared to what's happened before," Iannuzzi said.
Iannuzzi won gold in the Men's 50m freestyle ISB, with fellow Italian Antonio Auricchio not far behind him.
"We are a little team. Italy is a small team and to stay together on the podium for us is very important."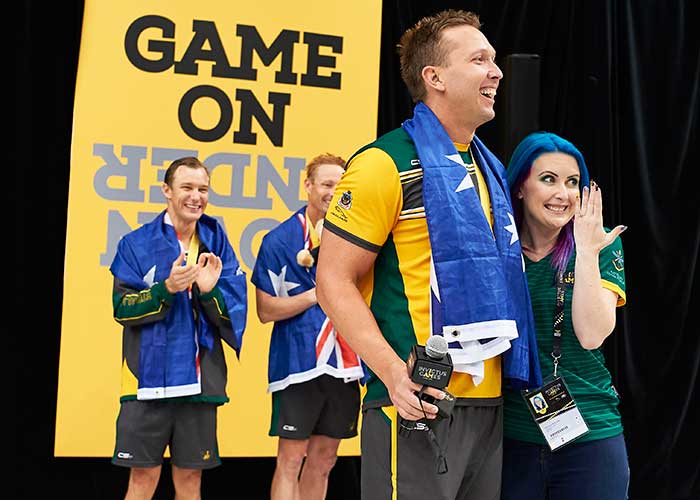 Game On for Dean and Rachel
After the final race of the night Aussie swimmer Dean Knobel took the opportunity to ask his girlfriend Rachel Wilson to marry him.
There were huge cheers across the pool when she said yes.
"I thought we were just getting a photo taken. I was shaking … I am very, very happy," she said.
Sascha Ryner and Bev Jordan
Invictus Games Sydney 2018