Samual Maraldo seems to have the knack for timing. Just as the former electronic technician's departure from the Royal Australian Navy was being processed, preparations were underway for the inaugural Invictus Games in London in 2014, and he received an unexpected call-up.
Four years later, Maraldo was helping out the Australian sitting volleyball team at pre-Games camps and was drafted into the starting line up just weeks out from competition.
"I really enjoyed the sitting volleyball at the first Games," the 40-year-old said.
"It was just as I was being discharged and they asked if I could play any of the sports. Once we got to London, it ended up being wheelchair basketball, sitting volleyball, archery and I did a bit of the rugby. It was the first time I'd done those sports. But I took it with both hands and it was great."
The experience inspired Maraldo to rebuild his life as he faced chronic hip, knee and shoulder injuries, depression and anxiety. He took up archery, studied psychology at university and was drafted to a wheelchair AFL team.
Maraldo missed out on the archery squad for Invictus Games Sydney 2018, but was asked to be a reserve for the sitting volleyball team.
"They told me I probably wouldn't go any further, but there were times they needed me to just make up numbers and I was really happy to do that," he said.
"After the training camp in September they said thanks and 'we'll try and get you some tickets'. Four days later I got a call saying that a spot had opened up. Everything happened pretty quickly after that."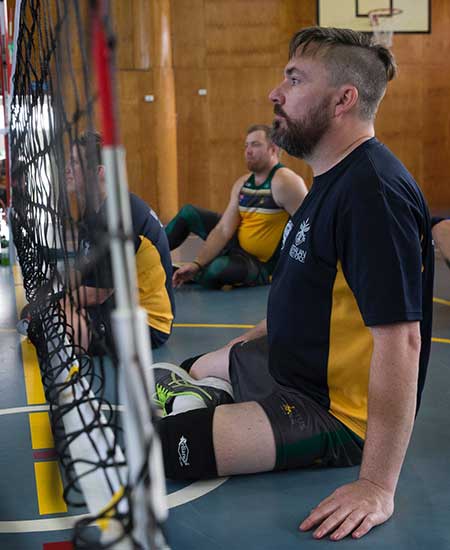 Maraldo will compete in a sport better seen than explained. Players move across the court propelled by their arms, most developing unique techniques built around their physical constraints.
"It's a really good sport to watch," he said. "You see people slide across the floor, moving in a way that you wouldn't believe. There's plenty of skill.
"You'll see a bit of 'chaos-ball' from us at times. But when we get going, people will be surprised at what we can do."
Getting going seemed frustratingly distant for Maraldo, whose missions were primarily in South-East Asia, the Pacific and on border patrol operations. In 2008, while still at recruit school, a training mishap caused meniscal damage in a knee. Subsequent surgery was mishandled, Maraldo said, lengthening his recovery time. He returned to operational service but, after three years, had developed problems in his hips, knees and shoulders. Further surgeries followed and, ultimately, he was medically discharged.
Compounding his challenges was the sense that other veterans questioned his service.
"In the veterans' community, there are some people who believe that if you haven't served in a war zone, you're not really a veteran," Maraldo said.
"It's a minority but they're out there and they make themselves known. I've got a lot of friends who work on patrol boats. They don't go to places like the Gulf. But I reckon they see as much stuff as anybody else.
"There are some people who've been injured in war zones, others who've been injured at home and have similar injuries to those who've been in war zones. There are plenty of mental health issues from across the Armed Forces.
"The point is, in our situations, we've all gone through something. We've all seen difficult things."
In the Invictus Games Australian Team environment, there is no judgement, Maraldo said.
"After all those years of going through all that stuff, I'd lost my motivation to play sport. But what I found at the Invictus Games was that everyone was really welcoming.
"It's changed my outlook – it was always about what I couldn't do, but now it's about what I can do. There has been a real shift. I may never be the best at anything, but at least in this team I can play a part."
Spectators need to see sitting volleyball live at Sydney Olympic Park to appreciate the fantastic skills and witness teamwork at its best. Tickets are still available for the three pool-play sessions on Monday 22 October and the semi-finals on Tuesday 23 October. Buy tickets now>>>
David Sygall
Invictus Games Sydney 2018