Cyrille Chahboune has only been sailing a few weeks, but after his unforgettable experience competing in the shadows of the Sydney Opera House and Harbour Bridge at Invictus Games Sydney 2018 presented by Jaguar Land Rover, the former paratrooper in the French Air Force is keen to continue learning the sport.
Chahboune enjoyed a satisfying drink with his wife and mother after claiming the gold medal in the Hansa 303 class at Farm Cove, where he and his fellow competitors were cheered on by thousands of spectators on the water and lined along the foreshore at Mrs Macquarie's Chair and the Royal Botanic Garden, where many had also watched the road cycling events.
"Before the accident I used to do kite surfing," Chahboune, 32, said through an interpreter.
"I love water sports. I love intellectual sports, where you have to think. I have found sailing to be a peaceful sport, you are sitting in one place and it's good for me. I like it very much."
Chahboune joined the French military aged 19 and served on multiple deployments, including Afghanistan, Iraq and Chad.
"Then I was involved in an explosion when I was serving in Iraq. A bomb went off and I was near to it. The first month afterwards was very hard. When I started walking with prosthetics, it was also very hard for me. But then, a bit later, I started to play sports and it has been very good for me."
Chahboune said he felt happy to give his French teammates something special to celebrate after they enjoyed the Opening Ceremony the previous night on the forecourt of the Sydney Opera House next to Farm Cove.
"Personally and with the team, it's something amazing. It's my first time in Sydney. The show last night was marvelous. The whole thing is extraordinary."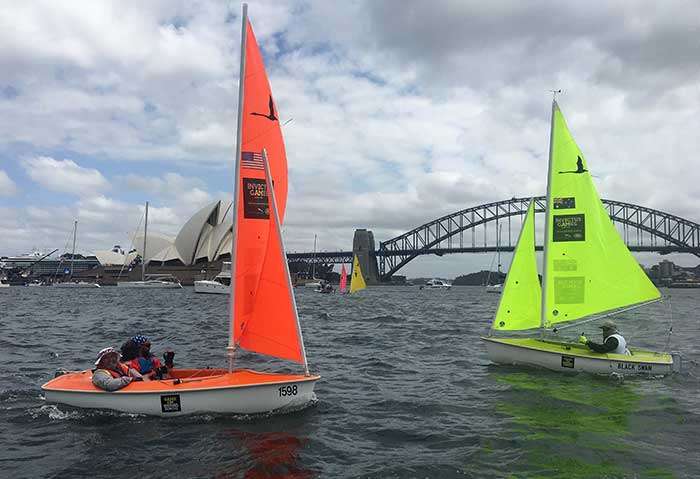 Australians Davin 'Bear' Bretherton and Pete Arbuckle came second and third, respectively. Bretherton said he drew motivation from his desire to give some joy back to the people who supported him throughout his toughest times.
"I think, through adaptive sports, it gives you back some pride. I think that's something that's a lot of the what the men and women miss," said Bretherton.
"I know I missed some self-worth after my accident. It definitely brings you back to the point where you want to keep looking ahead and trying to give back to those who have been around you and supported you through the dark times. It shows them that their support has got you to these achievements. Silver medal mate, I'm rapt."
Bretherton joined the Australian Defence Force Infantry in 1987 and served in Somalia in 1992-93. He had a leg amputated below the knee following a training accident in Adelaide.
"Through all the bad times, the PTSD and all that, it's really good to know that, if you keep going along, there's always going to be some good and exciting times in life. There's always something to live for and to look forward to," said Bretherton.
"It's sensational, to know how far we've come in such a short time. To get both the boys on the podium, words can't describe how proud I am of Pete's efforts, and my own. It's an absolute thrill to be part of it."
All the competitors were cheered on by Australian sailing legend, dual America's Cup winner and Invictus Games Sydney 2018 Ambassador James Spithill. Also watching on were Australian Paralympic gold medal-winning sailors Daniel Fitzgibbon and Liesl Tesch. Spithill spent time in the lead-up working with all the competitors.
"It was really inspiring to see different teams come together to help each other," said Spithill, as he supported the Elliott 7 fleets in the afternoon session.
"Some of the advanced teams were coaching some of the guys who were new to the sport and I thought that was something really special, just to see that it's all about helping each other, getting through it.
"You can feel the energy out here. Once you get amongst the group and the teams – it's very difficult to put into words – but it really does capture you. It's such a great thing to be involved with."
Spithill had earlier joined fellow Invictus Games Sydney 2018 Ambassador, Australian cycling great Anna Meares, at the road cycling at nearby Mrs Macquarie's Chair.
"You can hear the people cheering on the shore, cheering from the spectator fleet – it's a real privilege for me to be involved," he said.
"I think, for our servicemen and women, we really have an unpayable debt for what they do. It's great to be able to get down here and support them."
Dave Sygall
Invictus Games Sydney 2018