Invictus Games Sydney 2018 Opening Ceremony from Invictus Games Sydney 2018 on Vimeo.
A severe storm swept over Sydney on Saturday, but nothing could dampen the spirit nor stop the official opening of the Invictus Games Sydney 2018 presented by Jaguar Land Rover.
It only took four words: "Game on, Down Under!" for the fourth edition of the Games to be opened by His Royal Highness The Duke of Sussex.
It was a wonderful atmosphere with the 4,000 strong crowd of competitors, family and friends, and dignitaries under the sails of the Sydney Opera House and dramatic skies.
Competitors waited an extra hour aboard the jet cats which transported them from Sydney Olympic Park due to the inclement weather, but the excitement levels didn't falter.
Competitors were applauded by Governor-General Sir Peter Cosgrove as "strong, proud and undefeated".
Emotions ran high as Australian Michaela Gilewicz joined competitors from former host nations USA, UK and Canada to carry the Invictus Games flag into the forecourt as the crowd stood in respect of the Invictus spirit.
"I found myself in a very difficult position, in a very dark place, and the Invictus Games provided me that light at the end of the tunnel," former Australian Army Intelligence Officer Bridget Baker told the crowd.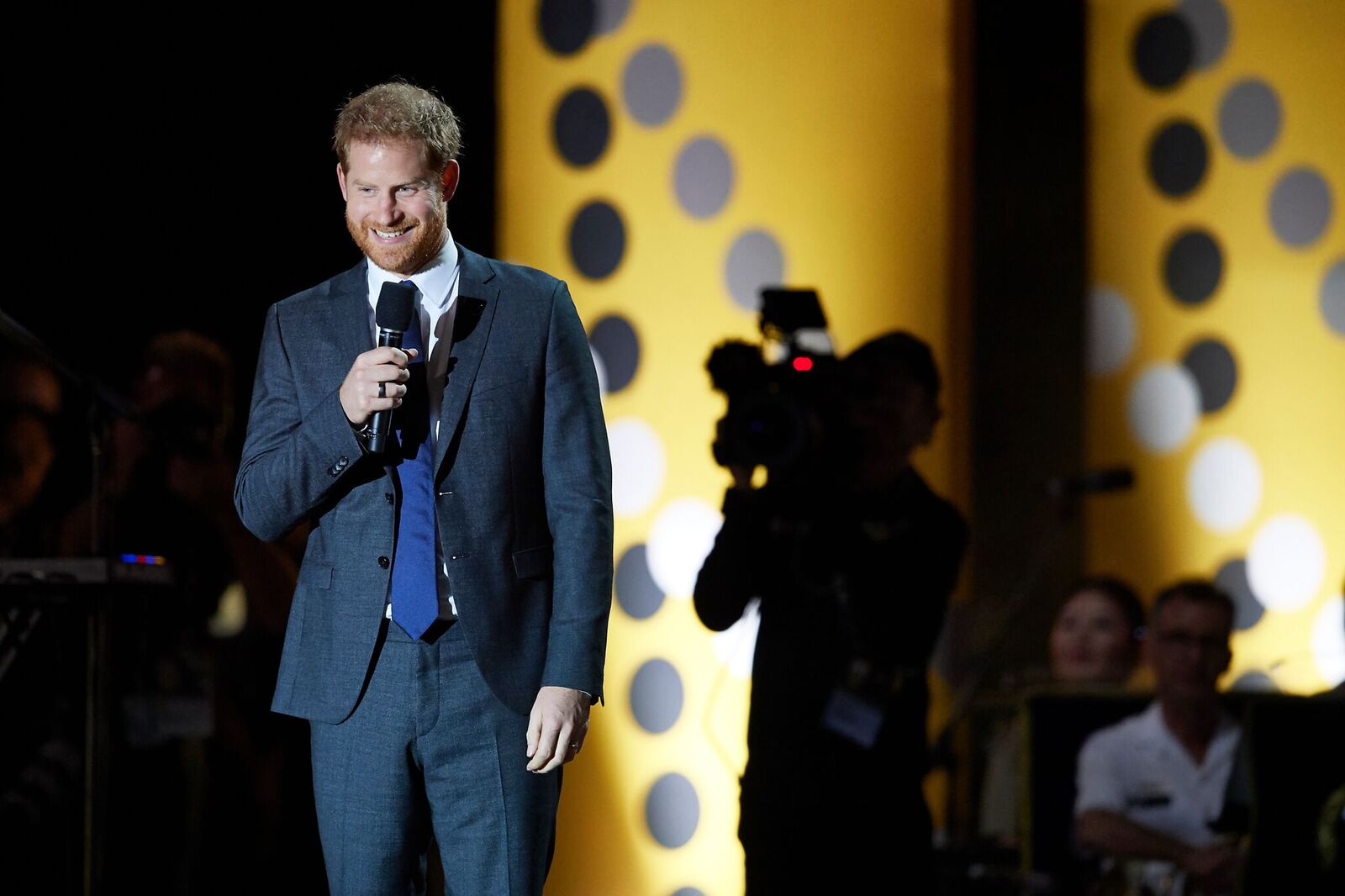 The Duke of Sussex paid tribute to the competitors, saying they were an example of a new generation of service men and women: the Invictus Generation.
"When all of you compete over the next week, remember that you do so, not just for yourselves, not just for your families, not just for your nations," said The Duke of Sussex.
"You are competing with different flags on your chests, but you are competing together for one Invictus Generation.
"You are the Unconquered Generation. You are the Optimistic Generation. You are the new generation of service, and you are the role models to us all."
Popular Australian music and culture united to provide an unforgettable welcome, celebrating the human spirit which was the theme for the opening.
Through song, colour and tradition, the Opening Ceremony showcased personal stories of recovery, endurance and rehabilitation, bringing together the rich and diverse cultures and experiences that make up the Invictus Games family.
The pipes and drums of the Australian Defence Force rang out over the Opera House forecourt and harbour as Families United by Service and Defence were led into the ceremony and the nations' flag bearers took part in the Parade of Nations.
After the Welcome to Country, which featured a cultural dance and smoking ceremony, there was a performance by Australian music icons William Barton, Kate Ceberano and Ian Moss.
Beloved comics Magda Szubanski and Hamish Blake led a hilarious tribute to the 1000 volunteers who have given up their time to create a memorable experience for every competitor, their family and friends, and fans who have travelled from all over the world. To close out the evening, the Australian band Birds of Tokyo performed "Unbreakable."
The competitors will challenge for medals in 11 different sports, including archery, sitting volleyball and wheelchair basketball at venues around the harbour city. The first medal events were decided earlier today in the Jaguar Land Rover Driving Challenge.
Sydneysider Tracey Charlesworth from Pitt Town said the ceremony was "the most exciting' thing to happen to Sydney since 2000, when the Olympic and Paralympic Games were held.
"I was pregnant with my oldest son at the time – and I'm here with my 13-year-old tonight. Everyone is so happy there is such a great feeling about it," she said.
Her son Ben added: "I'm wild about Harry but there's more to the Invictus Games it is awesome to see the veterans getting so much out of sport."
German Fredrike Schmitz, 25, from Potsdam, Germany, is in Sydney to watch father Franz-Josef, who is a serving member of the Germany Army and has PTSD, compete in three events: archery, road cycling and sitting volleyball.
"I'm so proud of my dad, he has come such a long way. It's really nice to be around other families who understand the experience," she said.
"We're not an open culture in Germany, we don't celebrate veterans like they do in other countries. It's a privilege to be here – the rain won't stop us!"
England dual international rugby union and league player Jason Robinson was among the celebrities and competitors at the ceremony.
"In rugby we used to talk about going into battle before our matches – but after my experience with the Invictus Games, I don't feel justified to say that ever again," said Robinson.
"These men and women have fought for our freedom…they are so inspiring.
"This opening ceremony marks a milestone in each of the (competitors') journey. It's not just about sport its about recovery; wives are getting their husbands back, husbands are getting their wives back and kids are getting their parents back, thanks to the Invictus Games."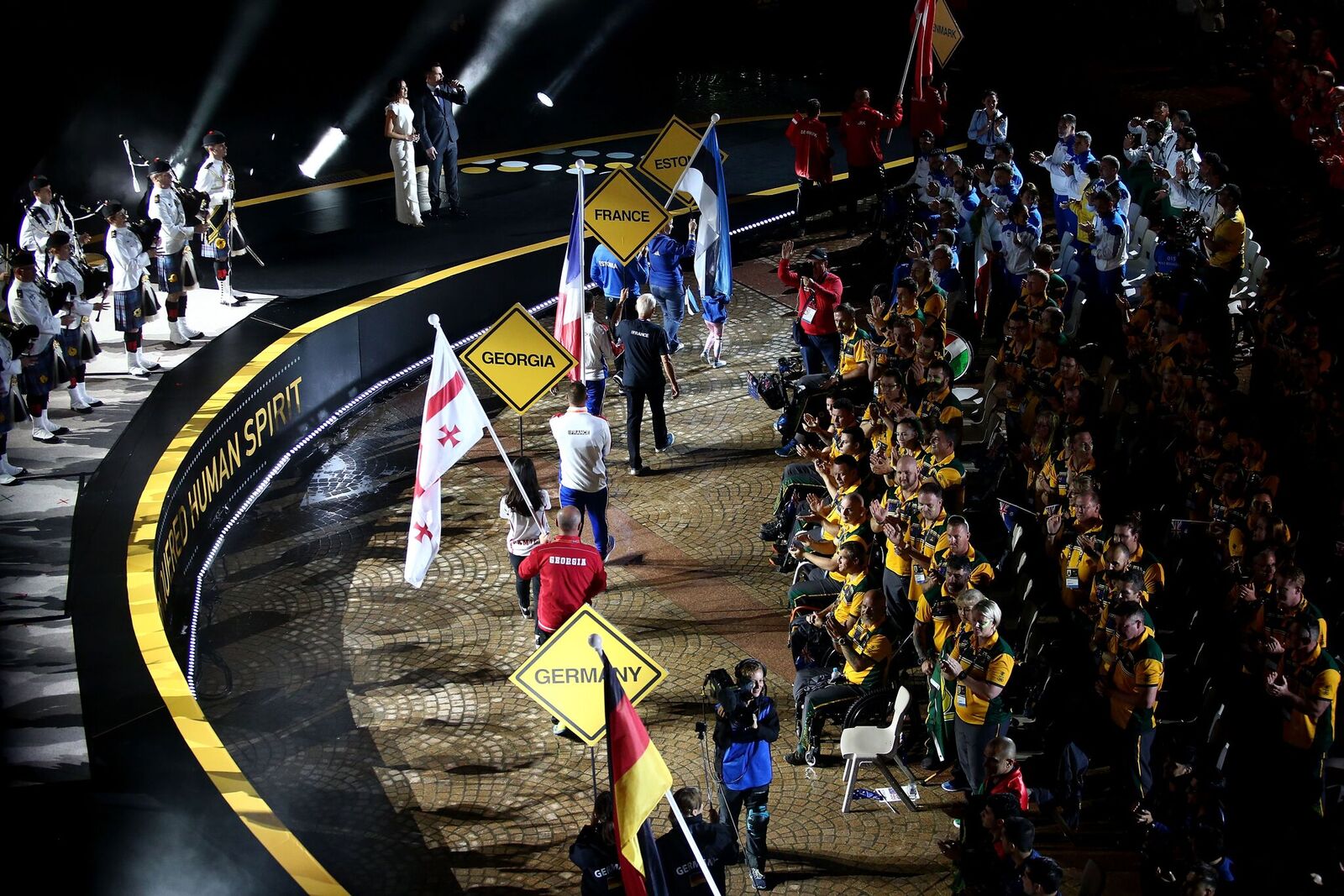 Lieutenant colonel Michael Zacchea, former United States Marine, who was wounded by a rocket propelled grenade in Iraq in 2004, was among those to praise both Sydney and the Invictus Games movement.
"They didn't have this when I was wounded. I felt so isolated; I was treated as an individual. I wish I had the Invictus Games to help my recovery," said Zacchea, who served alongside Australians in Iraq.
"The welcome we have had to Sydney has been remarkable. There's been such a united effort; it's so impressive how the whole city is involved."
HRH The Duke of Sussex called on Australians to support the Invictus Games Sydney 2018 competitors.
"It's your job to cheer them on and share their stories.
"It's your privilege to watch in the stands or with your friends and families around the television.
"It's your responsibility to make sure your children know how amazing these guys and girls really are…
"Be inspired, Get excited……
"Show the world what – Game On, Down Under really means."
Catriona Dixon
Invictus Games Sydney 2018