Wheelchair Basketball
Wheelchair basketball promises to be one of the most popular sports at the Games. The sport owes its history to the desire of World War II veterans with spinal cord injuries to become active again. At Invictus Games Sydney 2018 the six nations competing in the mixed team competition are: USA, New Zealand and Canada in Pool A, and The Netherlands, Australia and the United Kingdom in Pool B.
Sport Format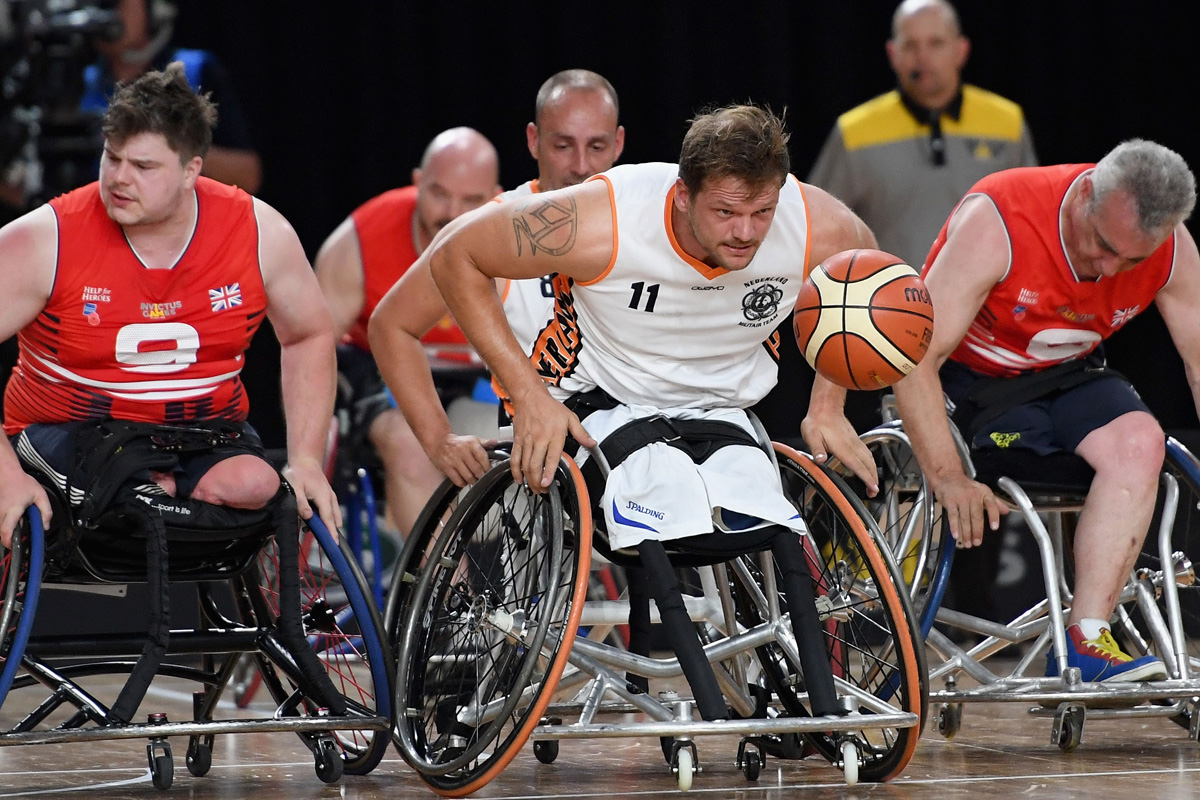 In wheelchair basketball players move the ball around the court by passing or dribbling the ball.
The objective is to score a basket by throwing the ball into the net. Two points are awarded for each regular basket, three points are awarded for baskets shot from outside the three-point arc and one point is added for successful free throws or foul shots.
Men and women compete together in mixed teams and the team with the most points at the end of game wins.
Teams must complete a shot which connects with the ring before the 24-second shot clock runs down or possession is handed over to the opposing team.
The number of players on the court, scoring, ball, size of the court and the height of the hoop is the same as traditional basketball. A key difference is that competitors must throw or bounce the ball after every two pushes of the wheels on the chair, otherwise they will be penalised for travelling.
The wheelchair is considered part of the player's body in relation to establishing responsibility for contact on court in the case of charging and blocking fouls, going out of bounds, and other violations. A player may not leave or fall out of their chair to gain a competitive advantage.
THE COMPETITION
Teams will play in a round robin format in two pools with the top two teams in each pool going through to the semi-finals.
The preliminary games are played over two running-clock halves of 12 minutes each. Each team is allowed one time-out per half in the preliminary games.
The semifinals and finals will consist of two running-clock halves of 15 minutes each. In the medal finals, teams are allowed two first half time-outs and three second half time-outs. The clock is stopped for free throws.
Player Points
Players are assigned a points value based on the categories that designate their level of impairment.
1 point – Maximum players who have the most significant physical limitations
2 points – Moderate players
3 points – Open players with the least physical limitation.
The maximum number of points allowed on the court at any one time is 14 points and there must always be 5 players per team in play.